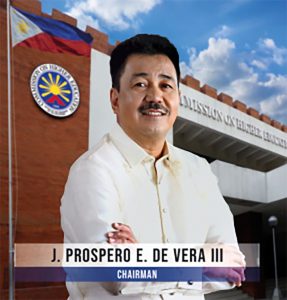 With significant contributions and expertise to higher education, agriculture, indigenous communities, environment, and climate change, good governance, and local governments, he made a firm stand. This man is notable for spending his professional career as an academician, administrator, legislative staff, policy expert, political adviser, and technocrat in the executive and legislative branches of government here in the Philippines and the United States of America particularly in California State Legislature — Dr. J. Prospero E. De Vera III.
Endearingly called "Popoy", he currently holds the position of Chairperson of the Commission on Higher Education (CHED). He serves as an academician who has used his technical expertise to help policymakers and educate the public. No wonder he is a Professor of Public Administration at the University of the Philippines and served as its Vice President for Public Affairs from 2011-2016. Apart from it, he is a popular public figure with a lot of sterling achievements in Higher Education, in Mindanao, in the Visayas, and in Luzon.
It is noteworthy that CHED's biggest mandate is the implementation of Republic Act 10931, President Duterte's most important social justice program – Free Higher Education. Dr. De Vera is a known strong advocate for increasing state subsidies for higher education. With his extensive experience and long-term commitment and dedication to public service, the agency under De Vera's leadership, the Universal Access to Quality Tertiary Education is now successfully rolling out.
As CHED Chairperson he sees the government of all the Board of Regents and Trustees of all state universities and colleges including the University of the Philippines and Mindanao State University.
"Ako ay proud na produkto ng public school system. Siyam kaming magkakapatid lahat sa Kamuning Elementary School nag-aral. Sa Quezon City Science High School ako nagtuloy, tapos college sa UP (Bachelor of Arts in History). Umasa ako sa scholarships (sa Pilipinas at sa US) para sa Masters (Master of Arts in Political Science) na tinapos ko sa De La Salle University at Ph.D. (Doctor of Public Administration) na tinapos ko sa UP. Kung naka produce ang public school system ng isang Popoy de Vera, responsibilidad ko ngayon na bigyan ng pagkakataon ang bawat isang nangangarap na kabataang Pilipino na makapagtapos ng kolehiyo sa ilalim ng RA 10931," as stated by Prof. Popoy De Vera in his Facebook.
Furthermore, as UniFAST (The Unified Financial Assistance System for Tertiary Education Act) Chairman, he answers the implementation of the Universal Access to Quality Tertiary Education or Free Higher Education Law.
"Kapag umiikot kami sa regions, kasama na roon ang pasasalamat namin sa HEI administrators dahil kung wala kayo, yung intensyon ng pamahalaan ay hindi maipapatupad. Even in the worst of times under the pandemic, we persevered to continue education. Our students want to study. They want to finish schooling and get a job and improve the lives of their family and it is the responsibility of the government to give them that option," Chairman Popoy De Vera said during the meet and greet with TES beneficiaries in Cotabato State University.
Moreover, Dr. De Vera steered the Higher Education System during the Covid 19 pandemic with the Inter-Agency Task Force for the Management of Emerg-ing Infectious Diseases (IATF-EID or IATF), a task force organized by the executive of the Philippine government to respond to affairs concerning emerging infectious diseases in the Philippines. "From now on, flexible learning will be the norm. There's no going back to the traditional full-packed face-to-face classrooms. The commission has adopted the policy that flexible learning will continue in the School Year 2021 and thereafter," he said in a report from Rappler.com on May 22, 2021.
He is also celebrating his milestone as a Fulbright-Hays Visiting Scholar at the University of Southern California and the California State University-Sacramento and a Senior Fulbright Visiting Professor/Fellow at Johns Hopkins University. Additionally, he served at the Committee on Revenue and Taxation of the California State Legislature and was the first Filipino recipient of a California State Assembly Resolution [Res. No. 7 given by Speaker Willie Brown] commending his work at the California Legislature in 1992.
Further, Dr. De Vera showcased excellence as he has spent the past three decades in the policy arena in the Philippines and the United States. Specifically, he served as an executive assistant, chief-of-staff, senior consultant, and senior adviser to Senate Presidents Aquilino Pimentel Jr. and Koko Pimentel, Senate Presidents Protempore Sotero Laurel, Leticia Ramos-Shahani, and Juan Flavier, and Senators Gregorio Honasan and Ramon Magsaysay, Jr. from the 8th-16th Congress.
Dr. De Vera is an internationally recognized political analyst and opinion-maker whose views are extensively quoted by foreign and local media. As a public intellectual, he simplifies complex studies and explains national issues through his top-rating education program Turo-Turo in DZMM Teleradyo (ABSCBN) and No Filter on the ABS-CBN News Channel (ANC).
On the other hand, he served as a member or adviser to the Philippine delegations to the 1994 UN Conference on Population and Development held in Cairo, Egypt; the 1995 UN World Summit on Social Development in Copenhagen; the 1996 UN World Food Summit in Rome; and the 2002 UN Special Session on Children in New York. As a political strategist, he has run many political campaigns at the national and local levels and serves as the President of the Association of Political Consultants in Asia (APCA).
As a catalyst of change, he served as the adviser of the Philippine Negotiating Panel with the National Democratic Front/Communist Party of the Philippines/New People's Army (NDF/CPP/NPA), and Commissioner of the United Nations Educational, Scientific, and Cultural Organization (UNESCO).
Dr. De Vera is indeed a pride of our education system for he embodies the integrity, dedication, and commitment to the work. As an epitome of a great public servant, one is called to emulate how he started making his vision a reality and how he is continuing to maximize his ability to lead and inspire.
Soaring high amidst adversities and plight, he reminds us that being a critical and accountable citizen of the country can also allow us to reach greater heights.
-By Verna A. Gaston-