URS President Marita Canapi receives the 17-Million worth of DTI Shared Services Facility from DTI.   Secretary Adrian Cristobal and other key officials of DTI, DOST, NEDA and Rizal Provincial Government pose during the launching ceremonies.
The University of Rizal System, in partnership with DTI and DOST, set-up a state-of-the-art facility for Food Testing worth 17 million pesos. The University has provided highly-skilled personnel and laboratory rooms as counterpart for the establishment of this Provincial Food Testing Laboratory. Witnessing the turn-over and launching were former DTI Secretary Adrian S. Cristobal, Jr., Rizal Provincial Vice-Governor Frisco San Juan, DTI Undersecretary Zenaida Maglaya, DOST Assistant Secretary Dr. Urdujah Tejada, DTI-Region 4a Director Marilou Toledo, DOST-4A Director and URS-BOR Regent Dr. Alexander Madrigal, NEDA 4A Assistant Regional Director Gina Gacusan, DTI-Rizal Director Merceditas Pareno and DOST Provincial Director Engr. Fernando Ablaza. The new URS-DTI Shared Service Facility aims to provide various food analyses and other laboratory services for clients of the university and DTI particularly the growing food industries of the province.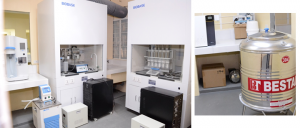 Some of the World-Class Food Testing Laboratory Equipment
URS Blesses its Newly-Renovated University Audio-Visual Center (AVEC)

URS President Dr. Marita Canapi, VP for RDEP Dr. Namerod Mateo and VP for AF Dr. Nancy Pascual lead the ribbon-cutting ceremonies for the blessing of newly-renovated University AVEC.
On June 7, 2016, Dr. Canapi led the blessing of the newly-renovated AVEC of the University at URS Morong Campus. The said event was witnessed by several campus directors and RDEP directors.