The Philippine Extension and Advisory Services Network (PhilEASNet) recently held its 2021 Virtual Agriculture, Fisheries, Forestry and Natural Resources (AFFNR) Extension Symposium and General Assembly with the theme Governance of Extension Systems for the New Future on October 14 – 15.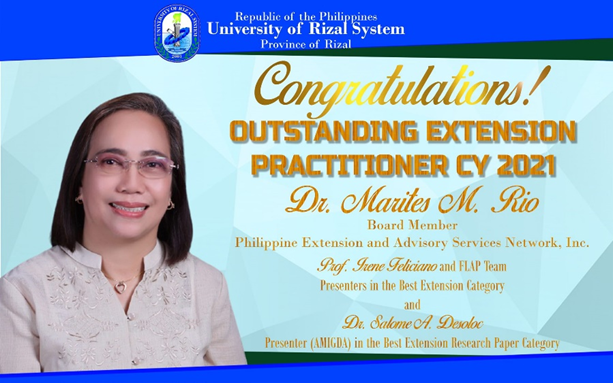 The symposium aimed to update and engage the extension and advisory services (EAS) professionals and practitioners from the government, academe and private sector in the discourse of the current governance initiatives towards strengthening EAS.
Plenary sessions on Devolution of Agricultural Extension: Key to a Strong EAS at the Local Level and, Professionalization of Extension Practice: Preparing Competent EAS Workforce were held. Meanwhile, concurrent parallel sessions on extension delivery during the new normal, extension competencies for the new future, and, extension policies and implications to extension practice where scientific papers were presented by competing participants were also done.
A call for papers and nominations awards went with the symposium. Prof. Irene Feliciano and the URS – Antipolo Campus Flexible Learning Assistance Program (FLAP) project team together with Dr. Salome Desoloc and the Unlad Amigo at Amiga Sustaining Community Development through Intervention Projects (AMIGDA) project team from the URS – Pililla Campus presented their extension project and paper, respectively.
Dr. Marites Rio, VP for Research Development, Extension and Production of URS, won the 2021 Outstanding Extension Practitioner Award considering her creative outputs in the area, commitment and dedication to clientele, impact of performance on clients served, and participation in agency activities. Likewise, Dr Rio took her oath of office having been chosen as Board of Director of PhilEASNet in the same venue. //