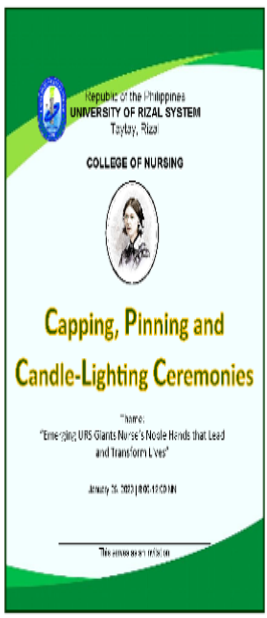 The University of Rizal System-Taytay (URST) Campus held its 9th Capping, Pinning, and Candle Lighting ceremonies for its third year Nursing students at the Eulogio "Amang" Rodriguez Tanghalang Sining (EARTS), URS – Morong on January 26.
The theme of this year's celebration is "Emerging URS Giants Nurses' Noble Hands that Lead and Transform Lives". Messages were delivered by Dr. Nancy Pascual, URS President; Dr. Allan Conde, Dr. Marites Rio, and Dr. Renato De Lemon, Vice Presidents for Academic Affairs; Research, Development, Extension, and Production; and Administration and Finance, respectively. Hon. Nina Ricci Ynares, Governor of Rizal Province, gave the inspirational speech. Serving as the keynote speaker is Dr. Casimiro Ynares, Jr., a medical doctor and former Governor of Rizal Province.
The presentation of the 135 candidates for capping and pinning was led by Prof. Ma.   Teresita Cerapion, Dean of the College of Nursing. The confirmation of candidates was done by Dr. Allan Conde. Ms. Marithony Alvarez, a registered nurse, and URST alumna signified the entrance of Florence Nightingale, social reformist and founder of modern nursing. The imposing of caps and pins were done with the College of Nursing faculty. The candle lighting followed as well as the recitation of the Florence Nightingale oath led by Prof. Ethelderada Santos, program head. The ceremonies culminated with the singing of the capping song. The closing remarks were given by Prof. Ma. Teresita Cerapion.
The ceremonies were held to signify the completion of the basic course requirements by the third-year Nursing students.~abc