By John Eiron Raymundo Francisco
The URS Angono (URSA) Campus announces with pride the major endeavors of Fine Arts students and alumni in many art competitions.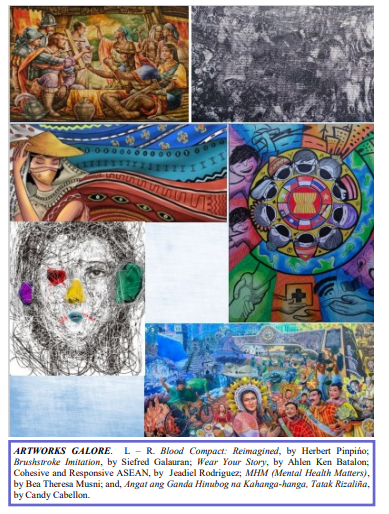 These are: The Second DOST – RDCHIME Regional Animation Module Contest 2021 with Mary Gabrielle D. Alcantara, BS Education alumna, winning First Place in the Amateur category and Ronald Solomon, Jediael Rodriguez, Carl Alcantara, Fine Arts students winning Second Place in the Students category; The 2021 YES Painting Contest – Sikat ang Sining ng Rizal with Candy Cabellon, Fine Arts alumna, winning Third; the 2021 SM Angono calendar contest with Victorino Gamido, Fine Arts alumnus winning third; The GSIS National Art Competition 2021 with Siefred T. Guilaran, Fine Arts alumnus, winning the Grand Prize in the Non -representational category (Guilaran is also the Luzon winner of the 2020 Philippine Art Award, a three-time finalist and Special Citation or Jury Prize winner in the Metrobank National Art Competition (MADE) during his college years); and the National Quincentennial Art Competition 2021 with Herbert Pinpino as the Grand Prize winner in the Unit category.
The National Quincentennial Art Competition 2021 was spearheaded by the National Quincentennial Committee (NQC), together with the National Historical Commission of the Philippines (NHCP), National Commission for Culture and the Arts' National Committee on Art Galleries, and the National Museum of the Philippines in commemoration of the 500th anniversary of the Philippine part in the first circumnavigation of the world, the Victory at Mactan, and other related events, collectively known as the 2021 Quincentennial Commemorations in the Philippines (2021 QCP). URS-Angono also takes pride of the honors brought to the University by Ahlen Ken Batalon, Bea Therese Musni and Jediael Rodriguez, who showed off their expertise in the realm of arts and made their mark across several national art competitions last year.
Ahlen Ken Batalon, a sophomore, showcased his painting named "Wear Your Story", implying that everyone must weave their own story and show their creativity. He won First Place in the Digital Painting Contest – College Category organized by the Philippine Textile Research Institute in collaboration with DOST in February 2021. Batalon was intercalated in the finals of Filipinas Shell's Watercolor Category conducted in November 2020. Bea Therese Musni, a senior Fine Arts student, won Second Place in the Shell National Students Arts Competition in November 2020. Her artwork is titled "MHM," which stands for "Mental Health Matters".
Jediael Rodriguez, fourth year Fine Arts student, placed First Runner-Up in CHED-RO IV Online Poster Competition for the 2020 ASEAN Month Celebration with the theme "Cohesive and Responsive ASEAN" in September 10 – 11, 2020. //