by Cristina C. Villamayor
The excellence of different prolific artists echoed in the recent Art in the Park Online Special Edition and the ManilART 2021 National Art Fair where a multitude of visual artworks were proudly presented and featured.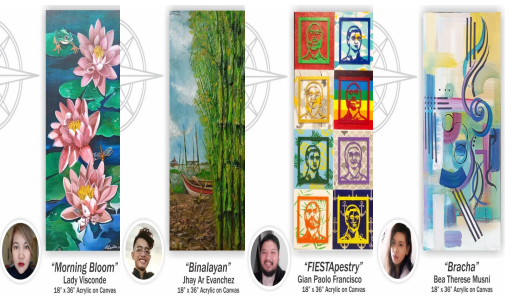 Art in the Park, an annual event organized by Philippine Art Events, Inc. for the benefit of the Museum Foundation of the Philippines, held its Special Online Edition event.
It was participated in by officers of Likhanguno (Artist Society of URSA) under the Arnold Art Collection owned by Theo Arnold, a Dutch National and Former Diplomat.
Among these students, the artwork of Jediael Rodriguez' was sold to a young collector which paved her way to be featured in PILIPINAS NGAYON NA Business and Lifestyle Magazine along with Ronald Solomon as Photographer and Prof. Maureen P. Bulatao as one of its contributing writers. Art in the Park was held July and August this year.
ManilART, the longest-running visual arts fair in the Philippines and a flagship project of the National Commission for Culture and the Arts along with its prestigious Satellite Exhibit held and organized by Angkla Art Gallery with the theme: SILANGAN: The Art EASTory was participated in by selected URS Angono Fine Arts students namely, Norlito Evanchez Jr., Bea Therese Musni, Lady V. Mendiola, and Prof. Gian Paolo Francisco, exhibitor and graphic designer, and Prof. Maureen P. Bulatao, Team Silangan Staff/ Coordinator.
Furthermore, ManilARTs' Onsite Exhibit at the SMX Convention Center in Taguig City was also participated in by Fine Arts alumni under ESPACIO Gallery where their artworks were sold out. The exhibits were held from October 7-31.
Fine Arts and other alumni artists who participated in the same event consisted of Jonas Miguel Arlegui, Carlmel Bernard Belda, Cezar B. Cardel Jr, Nea De Leon, Cardel Christian Carillaza, John Loyd Benz De Leon, Azriel Domingo, Eugene Dominguez, Mark Francisco, Kathleen Gobasco, Rommel Gonzales, Siefred Tayag Guillaran, Lyndon Maglalang, Kaz Motoda, Dzen Salinga, Olsen Santiago, Auis Suarez, Jerline Sunga and Franz Marion Vocalan.