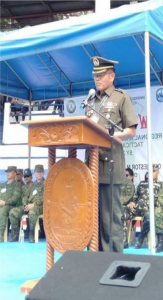 The cadets and cadettes from the Reserve Officer Training Corps (ROTC) units of the different URS campuses underwent the Regional Annual Administrative and Tactical Inspection (RAATI) conducted by the Army Reserve Command (ARESCOM) of the Philippine Army Region IV – A at URS – Tanay on Sunday, March 11.
Col. Nestor Pedro of the Philippine Army led the RAATI team.
The RAATI is a yearly activity of the ARESCOM which entails actual inspection of all activated Army ROTC units in the area operation.
The inspection aims to test the units' degree of administrative efficiency, training management, proficiency, and quality of training attained by the Corps of Cadets. These include administrative inspection, ceremonial parade, rank inspection, operation order writing, map reading, assembly and disassembly of rifles and pistols,  company drill,  method of instructions, small unit tactics and disaster response and rescue operations.
It also intends to test the operational readiness of the ROTC units and allow the students to experience the real meaning of basic soldiery.