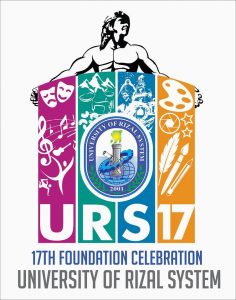 The University of Rizal System (URS) celebrated its 17th founding anniversary on August 9 – 10.
Themed "Overcoming Challenges, Building Resilience and Sustaining Excellence", the   celebration was chaired by the Angono, Cainta and Taytay campuses. A series of cultural, literary, academic and athletic    activities was held to coincide with the commemoration. A thanksgiving mass was offered after the motorcade held on August 10. Commemorative program was held at San Juan Gymnasium, Taytay, Rizal.
Hon. Cong. Michael John Duavit, representative, First District of Rizal, served as the speaker during the commemorative program.   The celebration was culminated with the Mr. and Ms. URS Pageant.  Mr. John Ray Dela Cruz of Cainta campus and Ms. Kathlene Anne Alvarez of Angono campus are the new Mr. and Ms. URS 2018. They will be the representatives of University of Rizal System to compete on the upcoming Mr. and Ms. STRASUC 2018.
Overall ranking for this year's contests follows: Rank 1, Morong; Rank 2, Angono; Rank 3, Binangonan; Rank 4, Antipolo; and Rank 5, Pililia. The   activities were held in Angono, Taytay and Cainta simultaneously.