The official transfer of ownership of the Shared Service Facility (SSF) equipment on food testing from the Department of Trade and Industry (DTI) to the University of Rizal System (URS) happened at the Audio-visual Education Center, URS- Morong Campus on January 19.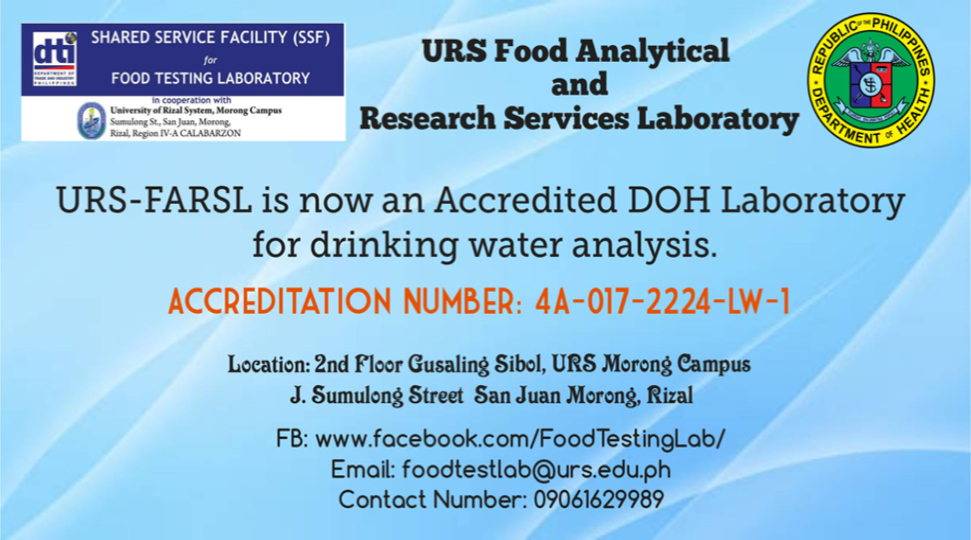 The Deed of Donations from the DTI covers Phases 1 and 2 equipment of the DTI-SSF project. In 2013 (Phase 1) and 2015 (Phase 2), URS submitted two project proposals that were approved by the DTI recognizing the University as SSF       cooperator for food testing. Considered as the biggest SSF project by the DTI    during that time, the University is responsible to maintain and operate the scientific equipment and instruments. The instruments and equipment which are capable of performing microbiological and chemical food and water analyses thus, support the needs of micro, small, and medium enterprises for their food products quality assurance, safety, and product development. The presence of the laboratory in Rizal also served as a venue not only for the MSMEs, but also for the faculty members and students from the province who engage in research on food and food products development. As an established food testing laboratory, it caters to clients from the province of Rizal and the nearby provinces.
On December 7, 2022, the Food Analytical and Research Services Laboratory (FARSL) formerly the Food Testing Laboratory presented to the DTI- Regional Technical Working Group (RTWG) the necessary documents for the application of equipment transfer to URS. The result was in favor of the University and was granted the ownership of the equipment worth ₱17,035,000.
A ceremonial turnover of the SSF equipment took place on January 19 where the University was represented by its President, Dr. Nancy Pascual, and the Vice President for Research Development, Extension, and Production, Dr. Marites Rio. The DTI was represented by Ms. Marissa Argente, OIC – Regional Director and Asst. Regional Director, DTI – Region IV-A; Mr. Leif Byron Samiano, SSF Regional Focal Person, DTI IV-A; Ms. Cleotilde Duran, OIC – Provincial Director, DTI – Rizal; Ms. Sharon  Dioco, Chief Trade-Industry Development Specialist, DTI – Rizal, and other DTI officials. The formal transfer and the University's ownership of the SSF equipment is another step in the direction of innovating and enhancing the University facilities, a commitment to serve the best to the community, and a move towards nurturing tomorrow's noblest. ~ EMG/EFT