With the challenges and negative impacts of the COVID-19 pandemic, the Philippine Statistics Authority (PSA) adopts the theme "NSM@32: Revving up for Economic and Social Recovery Through Evidence-Based Policies" for the celebration of the 2021 National Statistics Month.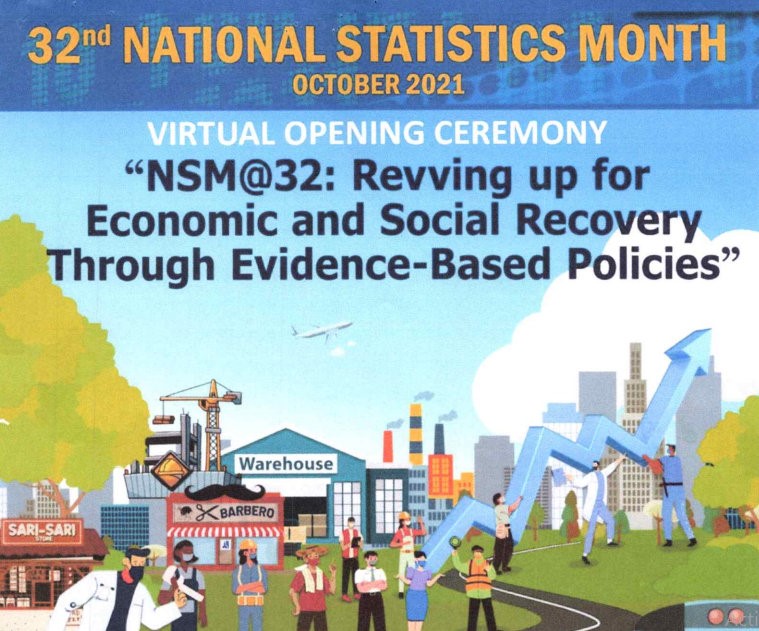 The theme accentuates the importance of statistics as bases for policy decisions to address the socio economic impact of COVID-19. It emphasizes the use of relevant statistics as solid evidence to guide and support the nation's efforts in navigating the pandemic towards socioeconomic recovery.
The Provincial Statistics Office therefore enjoined state universities and colleges and other government agencies to promote awareness and appreciation of the value of  Statistics.
In this regard, URS has come up with a set of activities such as the webinar on Civil Registration and Vital Statistics given by Ms. Yra Sibug, chief statistical specialist of the Rizal Province which was followed by the talk on the 23rd national statistical month theme given by Ms. Mercy Liza Tibay, supervising statistical specialist of PSA-Rizal. Usec Dennis Mapa, national statistician and civil registrar general, gave the opening talk for the celebration in general.
Following the webinar are the e-poster making contest and the statistical quiz bee.
Winners in the e-poster making contest are: First, Emmanuel Mon from URS-Morong campus with Dr. Aireen Matematico as faculty coach; second is Sammy Desoloc from URS-Binangonan with Prof. Sam Cedrick Calites as coach; and, third is Raiden Victor from URS-Cainta with Prof. Jonathan Francisco as coach. Winners in the statistical quiz bee are: First, Patrick Allan Tamayo; second is Klint Enzo Padua from URS-Binangonan with Prof. Joyce Lyn Abaoag as coach; and, Diane Anthonette Orbiso from URS-Antipolo with Prof. Juan Paulo Jurada as coach.
The National Statistics Month (NSM) was first observed in 1990 pursuant to Presidential Proclamation No. 647 signed by then President Corazon Aquino on September 20, 1990, Declaring the Month of October of Every Year as the National Statistics Month. //