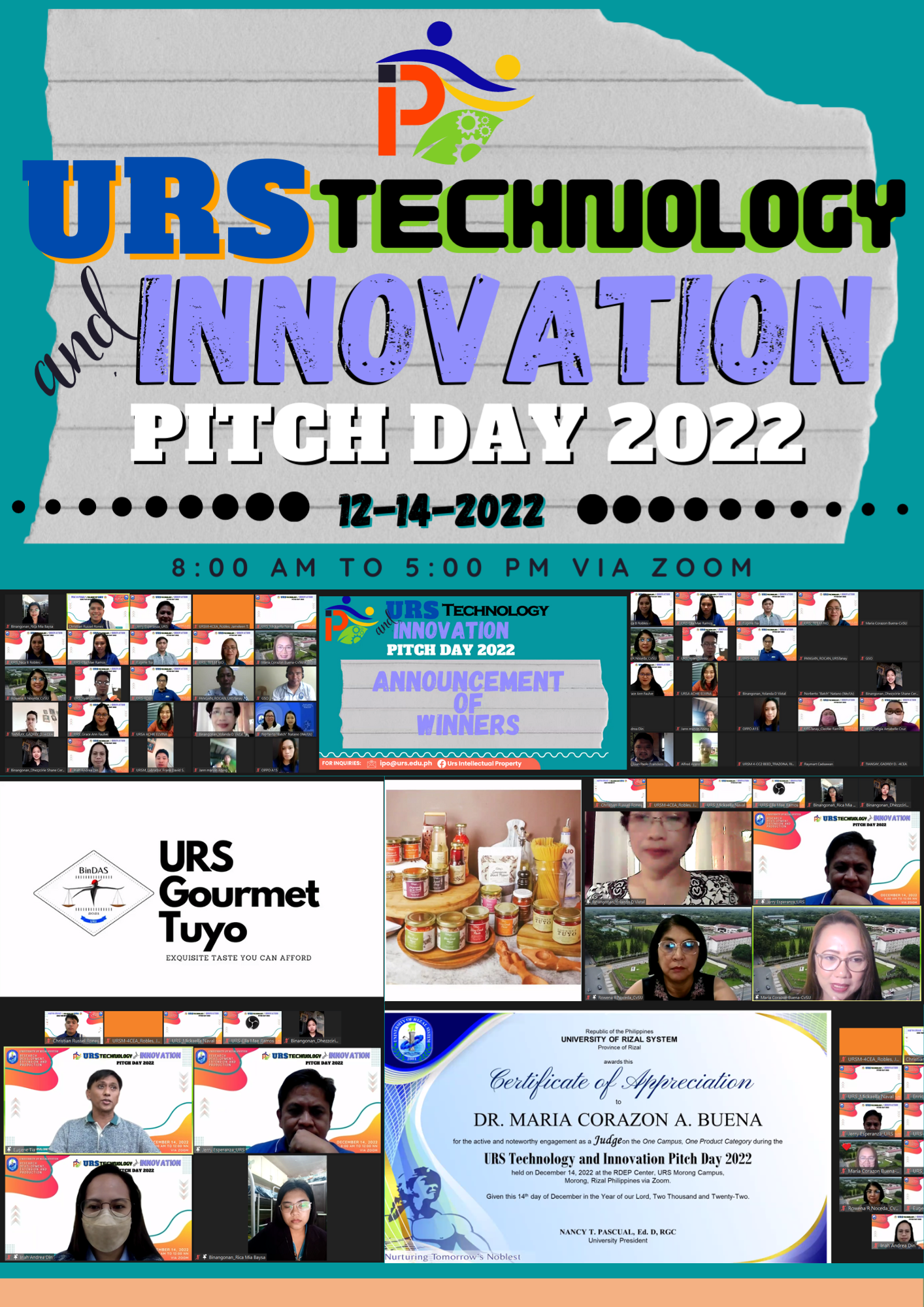 In local celebration of the conducted DOST-PCAARRD Agri-Aqua Innovation Pitch Fest last December 6, 2022. The URS as an implementing agency for DOST-PCAARRD-funded project entitled Project 1C: "Enhancing the Intellectual Property and Technology Business Management in URS" initiates to conduct the 2022 URS Technology and innovation pitch day. As an initial step prior to the said annual contest, the 2022 URS Technology and Innovation Pitch Day was considered as a university wide celebration that aimed to showcase and promote the distinct products of the ten Campuses of URS. The event highlighted research and development (R&D) or Non-R&D based outputs as well as innovative products and technologies developed by the faculty and student-researchers of each Campus of the university. Furthermore, the event highlighted potential product developed by each Campus as a result of a One Campus One Product advocacy project in response to the pressing needs of various sectors and stakeholders towards development and inclusive growth of the society. Henceforth, the URS Technology Pitch Day 2022 was held last December 14, 2022 as part of the collaborative efforts of the different Offices of the Research and Development, Extension and Production Division.
Two categories were executed during the event, the One Campus, One Product category that was participated by 6 out 10 campuses of URS that has an existing OCOP. Invited panel of judges from Cavite State University namely Dr. Ma. Corazon Buena, and Dr. Rowena Noceda. Prof Jerry C. Esperanza from URS was also part as one of the local jury who picked the best OCOP presentation amongst the contestants. "Power Trio" of Dr. Rocan B. Pangan from URS Tanay bags the 1st place title, followed by Bindas: Gourmet tuyo by Prof. Yolanda Vistal of URS Binangonan and URS Angono design and Print by Prof Gian Paolo Francisco of the URS Angono who placed 2nd and 3rd respectively. On the other hand, research titled "Establishment of Pressure Canning Facility in Binangonan, Rizal" by the students from URS Binangonan and "URS Garden Plants Nursery Project" a production project of Mr. Ricky Ulep and Mr. Ryan Guinto presented their research and project for RND/Non-RND category. Engr. Inah Andrea M. Din of URS Tanay, Prof. Eugene SF Tia, Head of food and safety lab and Prof. Jerry C. Esperanza evaluates the presented researches.
The event was held via zoom and was participated by 103 students and faculty researchers. This event will happen annually initiated by the IP Office of the university to scout potential research and technology innovations that can be use or be commercialize by the university in a long run.