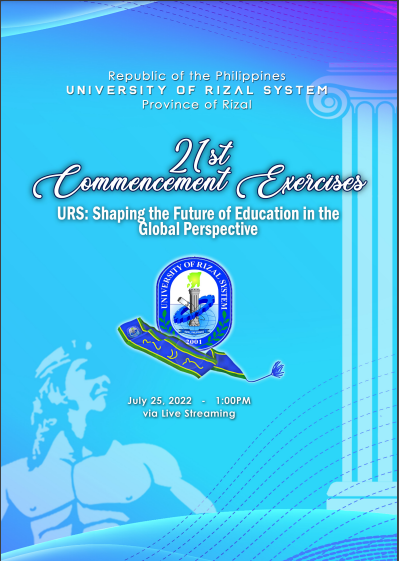 The University of Rizal System honored its graduates as it held its 21 st Commencement Exercises with the theme "URS: Shaping the Future of Education in the Global Perspective" on July 25 virtually.
The graduates include the candidates from SY 2019-2020 and the current year, a product of the first batch of K-12 Program of DepEd.
The program started with the procession and entrance of colors, and followed with the singing of Philippine national anthem, doxology, and URS hymn. Dr. Marita Canapi, CHED Commissioner, delivered her greetings prior to the presentation of candidates for graduation by Dr. Allan Conde, VP for Academic Affairs.
Dr. Nancy Pascual, University President, confirmed the graduates from the Graduate School and the undergraduate programs from the 10 campuses. Meanwhile, Hon. Nina Ricci Ynares, Provincial Governor of Rizal, served as the Guest Speaker. Ms. Angela Arwin Nogpo, a BEEd and Summa Cum Laude from Morong campus delivered the response on behalf of the graduates before the distribution of diploma with President Dr. Pascual who assisted by VPAA Dr. Conde, VPAF Dr. Renato De Lemon, VPRDEP Dr. Marites Rio, the campus directors, college deans, and program heads.
The Academic Honors, which was led by Mrs. Marlene Julian, the University Registrar, were awarded to a total of 719 recipients across all programs and campuses. This includes the Latin Honors: 2 summa cum laude, 5 magna cum laude, and 91 cum laude and Academic Excellence and Special Awards.
The latter part of the program was the induction of graduates to URS Alumni Association which was led by the Alumni Regent, Hon. Ricardo Ariston, and was followed with the Pledge of Loyalty to the Alma Mater by Mr. Jonel Garcia, graduating class president.
The graduation rites ended with the singing of the graduation song and the exit of colors.
~ Elwood M. Atienza and Salome C. Villasis