The official student publication of URS – Binangonan, The Pillar, received another set of recognitions from the 6th Student Philippine Quill Awards held at Mariott Grand Ballroom, Newport City, Pasay, on July 9.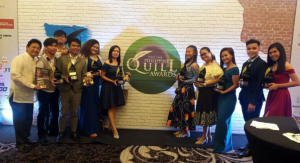 Speculum, the official literary folio of the campus and Le Pilier, the school's annual magazine, both gained the awards of excellence, the highest recognition given to a printed output. ​Meanwhile, Sukli: The Pillar Photo Essay; No U-turn: En-route to Rizal's Pilgrimage Sites; Republic of the Philippines is the New Fake News Republic; Sa Pula, sa Dilaw: Walang Katapusang Sabong sa Impyernong Gobyerno; Negoskwela; Duterte and His 21st Century Playlist for Ph Control; and, Ambulansya ng mga Pulitikong Pulpol, all attained the awards of merit. ​
This is the second time the URSB publications earned the Quill awards.
The Philippine Quill awards giving body is led by the International Association of Business Communicators (IABC) IABC is a San Francisco-based professional network and global membership association and with thousands of members from around the world.
~ Dominic Rapal