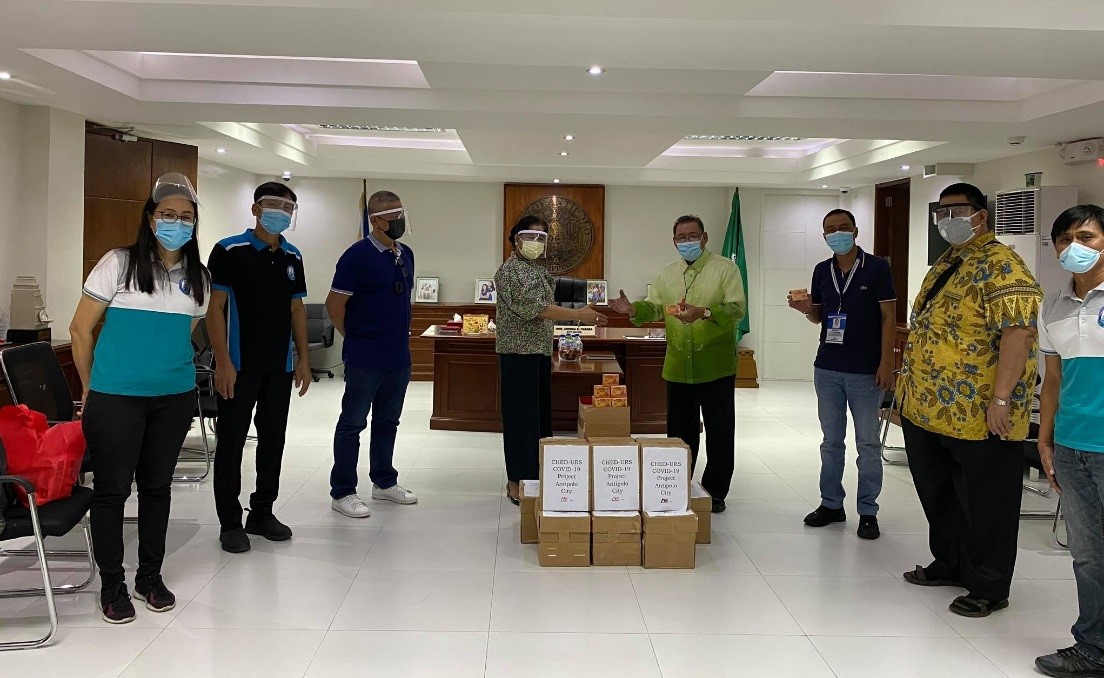 Project POST. President of URS, Dr. Nancy Pascual, and Vice-presidents for Administration and Finance, and Academic Affairs, Dr. Renato De Lemon and Dr. Allan Conde, respectively, join the proponents, Prof. Cristina Payofelin and Prof. Eugene Tia, in the distribution of soaps in the Province. Produced by the University, the project was funded by the Commission on Higher Education (CHED) as a response to combat COVID – 19.
In a bid to supply the Province of Rizal with bar soaps that will aid the combat of Coronavirus, the University of Rizal System (URS) has proposed the project Production of Soap to Combat Covid 19 aptly called POST.
The project aims to produce antibacterial bar soaps to help combat the spread of the virus. Notice to proceed with the project began October 2020. Procurement of raw materials, actual production and packaging were done. As of December 31, 2020, a total of 20,000 out of the target 40,000 bars of soap was already produced. Production of the total package and distribution of the soap is expected until February 2021.
Target beneficiaries are local government unit front liners, the Philippine National Police (PNP) and other military personnel, hospital crews and the municipalities in general.
The project is in consonance with the Commission on Higher Education (CHED) mandate to produce non-medicine materials. It tells state universities and colleges to conduct research and extension services, including projects that will improve and intensify the government's existing COVID-19 responses in line with Memorandum Order No. 1, s. of 2020 otherwise known as the Guidelines for the Grant of Assistance to State Universities and Colleges to Combat COVID-19.
Project proponents are Prof. Ma. Cristina Payofelin, project leader; and, Prof. Eugene Tia, Mr. Ricky Ulep, Mr. Ronald Pantaleon, Ms.  Loreta Cornejo and Mr. Darwin Vidanes, project members. Total budget allotted is P777, 458. 15. // abcampo