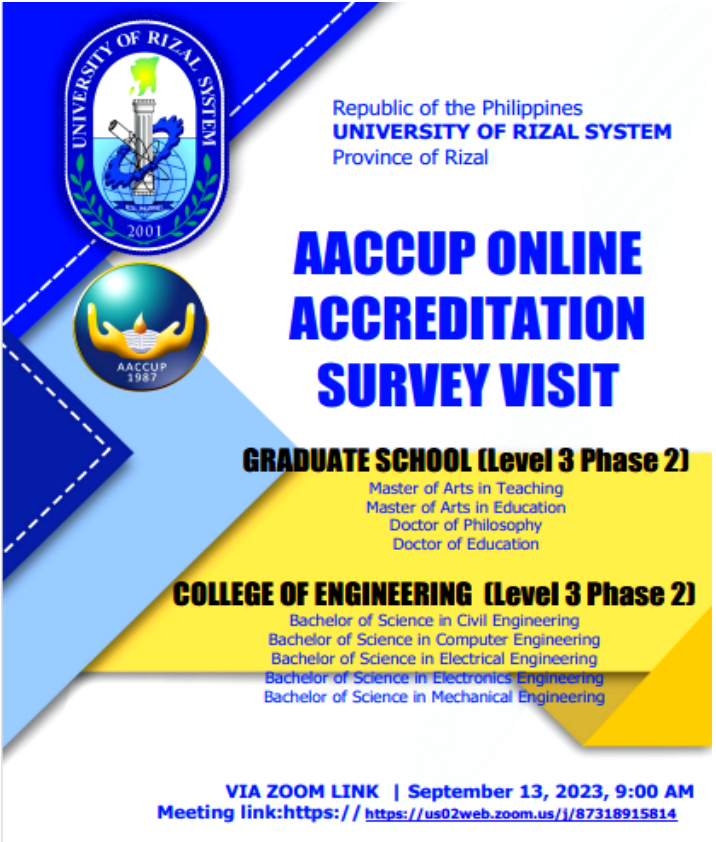 Four programs from the Graduate School URS Morong Campus, 5 from the College of Engineering, and 4 other programs in the Antipolo City Campus underwent accreditation survey visits for Level 3 Phase 2 on September 13-15.
The AACCUP accreditation team was composed of Dr. Antriman Orleans as the overall coordinator for the GS programs; Dr. Alma Maranda and Dr. Juliet Masangcap, accreditors assigned in Master of Education; Dr. Jonita Literatus and Dr. Milano Torres, accreditors for Master of Arts in Teaching; Dr. Jaime Forbes and Dr. Sherrilyn Quintos for Doctor of Education; and Dr. Lourdes Santos and Dr. Divinagracia De Guzman for the Doctor of Philosophy programs.
For the Engineering programs, the AACCUP accreditation team was composed of the following: Prof. Nestor Competente as the overall coordinator; Dr. Nelia Verzosa and Engr. Merricris Pangilinan, accreditors assigned in BS Civil Engineering program; Dr. Mayleen Dorcas Castro, and Engr. Pedrito Tenerife for the BS Computer Engineering program; Prof. Arnold Alburo and Engr. Mary Anne Sahagun for BS Electrical Engineering program; Dr. Geraldin Dela Cruz and Dr. Pepito for the BS Electronics Engineering program; and Dr. Grisom Gines and Dr. Marlon James Dedicatoria for the BS Mechanical Engineering program.
Meanwhile, 4 programs for the URS Antipolo City Campus namely Bachelor of Secondary Education, BS in Tourism Management, BS in Hospitality Management, and BS in Business Administration underwent the same level of accreditation survey visits on September 11-13. The AACCUP accreditation team that scrutinized the documents of the programs were the following: Dr. Elsie Pacho as the overall coordinator, Dr. Lourdes Santos, and Prof. Mary Joy Castillo are the accreditors assigned for the Bachelor of Secondary Education, Dr. Sisenado Masangcap Jr. and Prof. Ma. Lolita Abecia for BS in Business Administration program, Prof. Lovella Christianne Gulle and Prof. May Ann Pulgo for the BS in Hospitality Management, and Dr. Jeanneth Darroca and Dr. Ria Monsale for BS in Tourism Management. The results were expected to be released by November 2023. // CBVillarin