The Philippine Council for Agricultural, Aquatic and Natural Resources Research Development (DOST-PCAARRD) with its program on Support to the University's Strategies in Technology Acceleration Initiatives by Nurturing (SUSTAIN) the Intellectual Property and Technology Business Management (IP-TBM) Offices of the Consortia Member Agencies under Project 3 otherwise known as the Cavite State University's (CvSU) IP-TBM Office and Enhancing IP-TBM Offices among Member Agencies of the Southern Tagalog Agriculture, Aquatic and Resources Research, Development and Extension Consortium (STAARRDEC) has entered a Memorandum of Agreement (MOA) with URS.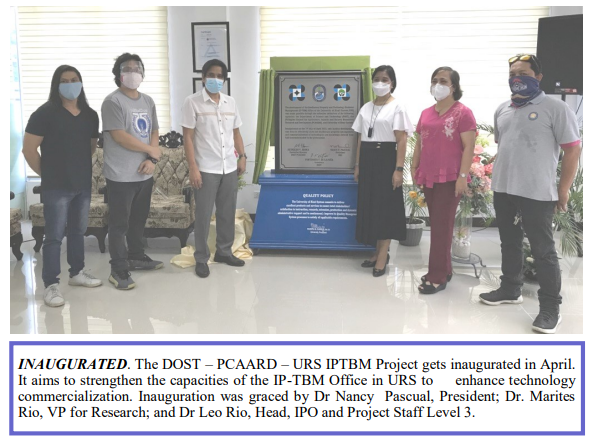 The project gives birth to Project 3B known as Enhancing Technology Transfer through IP-TBM in University of Rizal System (URS).
The project aims to strengthen the capacities of the IP-TBM Office in URS to enhance technology commercialization.
DOST-PCAARRD allocates a total of Php 1,631,716.00 for the duration of the project which is a total of two years commencing immediately or within two months after the receipt of funds.
The project was set to commence at least from January 1, 2020 to December 31, 2021. However, change in actual date of implementation as circumstances allow shall be requested from DOSTPCAARRD by URS. The facility was inaugurated on April 7, 2021.