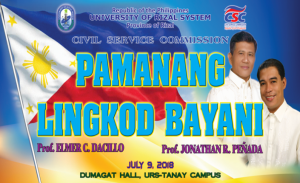 The Commission on Civil Service in its CSC Resolution No. 1302553 dated November 29, 2013, otherwise known as the Implementing Guidelines on Pamanang Lingkod Bayani, gives tribute to civilian public servants who    displayed the characters of a bayani in the name of public service.
The resolution aims to recognize public servants who were killed in the line of duty, or those who died while in the performance or the pursuit of their respective functions, duties and responsibilities. Covered in the Pamana are permanent civilian employees of the government including non-uniformed personnel of the AFP and PNP.
Recognizing the heroism of  the late Prof. Elmer Dacillo and Prof. Jonathan Peñada, who died in a road accident in Occidental Mindoro on December 9, 2017for the STRASUC competitions, a tribute has been held in honor of the two. Similarly, their bereaved families received the Pondong Pamanang Lingkod  Bayani, a one-time financial   assistance worth P100, 000 from the Commission.
The tribute was held at the Dumagat Hall, URS – Tanay Campus on July 9.