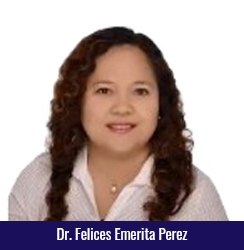 The University of Rizal System thru the Health Services Unit led by Dr. Edna Maycacayan conducted an orientation on the COVID – 19 vaccination on March 9.
The orientation was made possible with the presence of Dr. Felices Emerita Perez, Morong High School alumna and Head, Family Health Center, Center for Health Development, Department of Health – CALABARZON who discussed via Google Meet about the vaccine.
In the orientation, Dr. Perez spoke about the objectives of the vaccination program dubbed, "Resbakuna Kasangga ng Bida" which are to launch a national vaccination program against COVID 19 and to provide free and effective high-quality vaccines against SARS-COV-2 prioritizing the most-at-risk and most vulnerable populations. She also discussed the vaccines already available, the possible post-vaccination reactions which she called adverse effect following immunization, and shed light on a lot of questions posed by the audience after her talk.
For complete details regarding the "Resbakuna Kasangga ang Bida" program URS webinar, please visit the Office of Public Affairs Fb page.