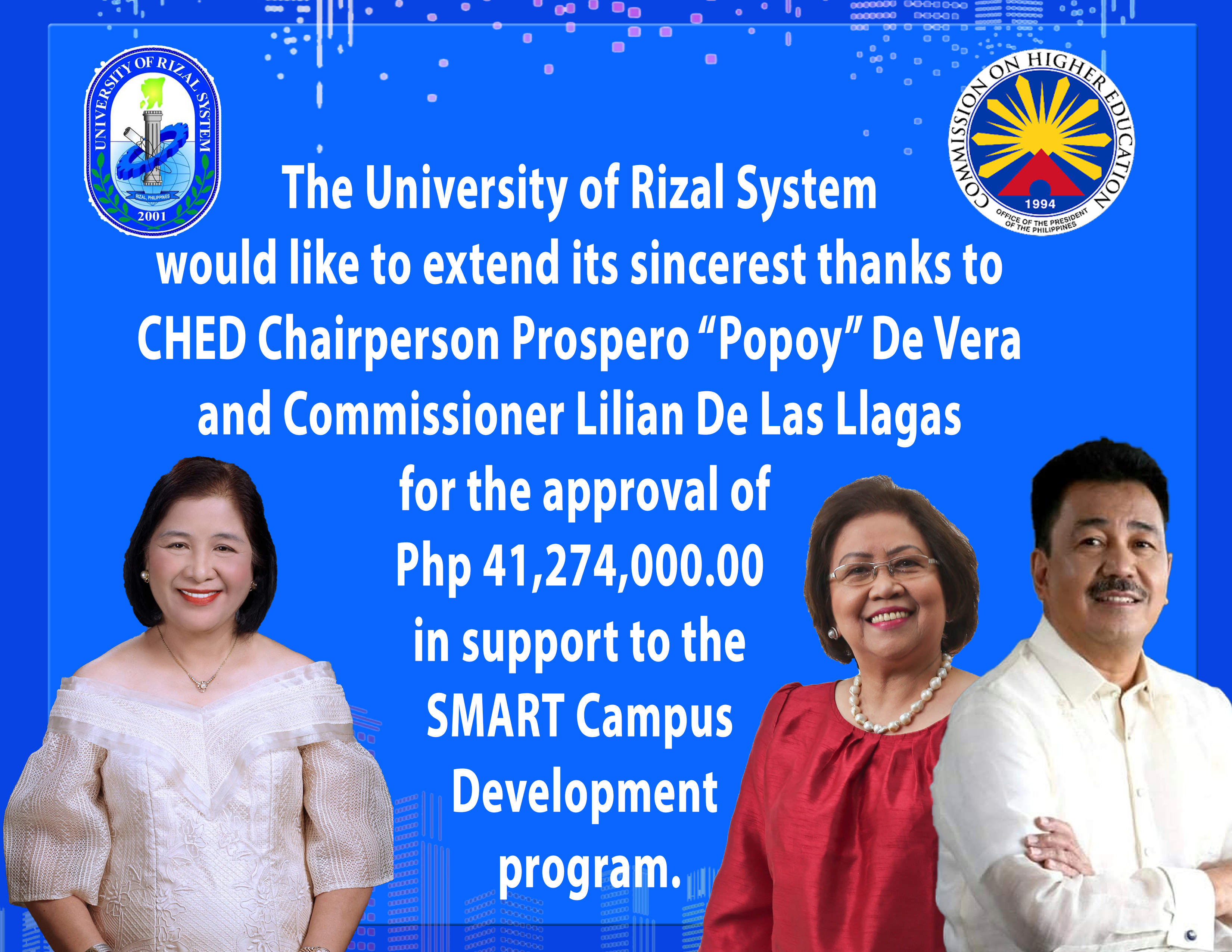 The University of Rizal System would like to extend its sincerest thanks to CHED Chairperson Prospero "Popoy" De Vera and Commissioner Lilian De Las Llagas for the approval of the Php 16,274,000.00 grant for the School Management Information System project and Php 25,000,000.00 grant for the Establishment of Hybrid Studios in Support to Flexible Learning in the Non-Contact Era project under the Initiated Institutional Development and Innovation Grant (IDIG). This year, CHED has granted the university a total of Php 41,274,000.00 worth of projects as of February 2022.
The 2 projects attest to the commitment of the university towards a meaningful, inclusive, and sustainable digital transformation that will greatly benefit its community and its stakeholders. The SMIS project will automate all manual transactions in all levels of operation in an office or unit of the university, such as but not limited to, enrollment, encoding, changing and viewing of grades, accounting, attendance, Gate Management System, SMS notification system, Biometrics/Payroll system, Assets/Supplies system, Cashless POS and will ensure that all clients will be reached and served promptly and accurately.
 Meanwhile, The Hybrid Studios enables the planning, content development, writing, production, validation, and final development of learning materials including, but not limited to, audiovisual presentations of course materials and curated lectures by select professors. These studios are inspired by the "live studios" in other advanced economies where professors likewise write learning materials and discuss them through video recording enhanced with the use of exciting visual effects for the enhanced and more immersive learning experience. These studios will be able to produce learning contents that are delivered in a lively manner and edited and produced in a "movie set" setting.
The URS is truly grateful to CHED for its generous grants to the university as it endeavors to become a SMART university relevant to the challenges of the time.