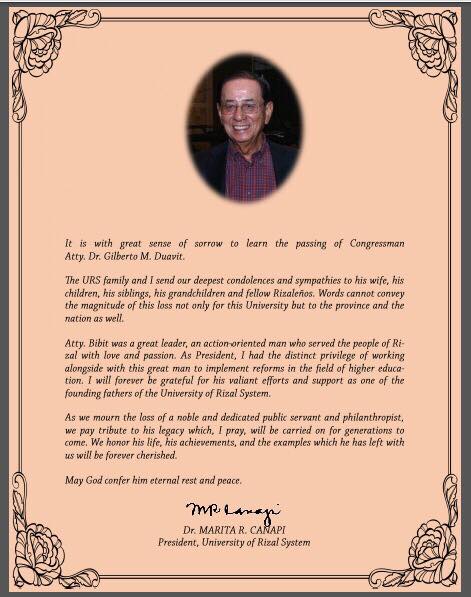 It is with great sense of sorrow to learn the passing of Congressman Atty. Dr. Gilberto M. Duavit Sr.
The URS family and I send our deepest condolences and sympathies to his wife, his children, his siblings, his grandchildren and fellow Rizaleños. Words cannot convey the magnitude of this loss not only for this University but to the province and the nation as well.
Atty. Bibit was a great leader, an action-oriented man who served the people of Rizal with love and passion. As President, I had the distinct privilege of working alongside with this great man to implement reforms in the field of higher education. I will forever be grateful for his valiant efforts and support as one of the founding fathers of the University of Rizal System.
As we mourn the loss of a noble and dedicated public servant and philanthropist, we pay tribute to his legacy which, I pray, will be carried on for generations to come. We honor his life, his achievements, and the examples which he has left with us will be forever cherished.
May God confer him eternal rest and peace.
Dr. Marita R. Canapi
University President