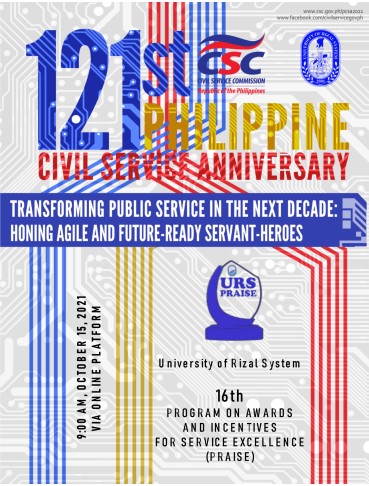 The University of Rizal System (URS) gave recognition to a total of 153 faculty and staff as it held its 16th URS Program on Awards and Incentives for Service Excellence (PRAISE) Awards via online platform at 9:00 am on Friday, October 15.
The celebration was aligned on the 121st celebration of the Philippine Civil Service Anniversary with the theme, "Transforming Public Service in the Next Decade: Honing Agile and Future-Ready Servant-Heroes".
Thirty-three faculty and staff were the recipients of the Service Award, 94 for the Loyalty Award, 20 were awarded for their career and self-development, and 6 who passed away while in service were also recognized with the Posthumous Award.
Dr. Olivia F. de Leon, mayor, municipality of Morong, Rizal and former president, URS, served as the keynote speaker.
The PRAISE Awards aim to encourage, recognize and reward faculty and staff, individually and in groups, for their suggestions, innovative ideas, inventions, discoveries, superior accomplishments, heroic deeds, exemplary behavior, extraordinary acts or services in the public interest and other personal efforts which contribute to the efficiency, economy and improvement in the government operations, which lead to organizational productivity. // abc