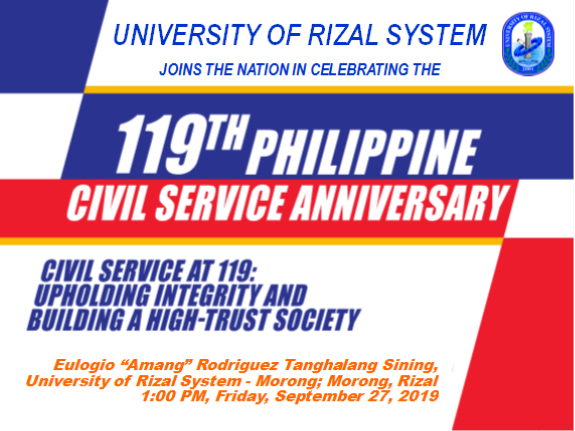 A total of 120 loyalty awardees, 14 service awardees and 21 career and self-development grantees will be honored in the PRAISE 2019 ceremonies to be held at the Eulogio "Amang" Rodriguez Tanghalang Sining, URS – Morong on September 27.
The list of awards and the awardees follow:
LOYALTY AWARD
Twenty-two (22) who served the University for 10 years are the following: Czarina Ann B. Alfonso, Jonnah O. Bautista, Oliver John R. Cayas, Noa-Maama T. Cequena, Dorothy P. De Borja, Rothesa B. Dela Cruz, Donna Marie G. Dela Vega, Alex D.V. Emnacino, Herbert F. Francisco, Yvette S. Garrovillas, Richelle E. Go, Jayson B. Lozano, Frederick Clyde S. Mapa, Maria Erleen R. Luciano, Nida D. Quimuyog, Simeon B. Rabuya, Von G. Ramirez, Dean G. Raymundo, Ronald R. Reyes, Juniel T. Trinidad, Rulen T. Velicaria, and Ver Ian J. Victorio.
Meanwhile, a total of 18 will receive the 15 – year service award. They are: Ma. Eppie A. Antioquia, Elwood M. Atienza, Ryan P. Bachicha, Marvin S. Baquiran, Marlon A. Bautista, Billy T. Berdan, Maricel B. Berdan, Marc Anthony D. Butac, Joanna Ruth P. Castillo, Mary Jane A. De Andres, Lani P. Dela Cruz, Maria Salome A. Desoloc, Liezel R. Francisco, Ma. Linda R. Fernandez, Glenn M. Ison, Helen B. Libao, Grace Joy E. Magistrado, and Marissa Yolanda C. Samonte.
Twenty (20) years loyalty awardees are Irene E. Abe, Ma. Riza A. Adolfo, Joy M. Alano, Medyline A. Almedina, Aries B. Anievas, Rodrigo A. Anore, Lorelie G. Anthony, Enrique L. Aparejo, Rizalita C. Belleca,  Jose E.
Binaluyo, Jr., Medardo B. Bombita, Rody F. Buenviaje, Olivia R. Cababat, Sherwin C. Cababat, Rosanna N. Calanasan, Jose P. Calmada, Jr., Leoncio C. Catolos, Nimfa A. Ceñal, Albert Q. Clemente, Joanne S. Concepcion, Rosechel R. Corral, Edwin E. Cueto, Wahinee M. Cruzada, Annalyn O. De Dios, Rizalina R. Fernandez, Michelle R. Garcia, Ferdinand C. Gimeno, Belinda Lourdes M. Habulan, Glenn N. Jardin, Maricel V. Maniaol, Edgardo DV. Manzano, Marilen B. Matela, Aireen M. Mora, Concepcion C. Ofamen, Arabella B. Pabilonia, Sheryl Ann N. Perciano, Carina B.  Pereira, Romualdo A. Piscasio,
Michael L. Protacio, Hector R. Rubiales II, Niclie L. Tiratira, Allan V. Veraña, and Wilmer I. Villa.
Also, Frederick P. Feliciano, Arnold T. Guiyab, Wilhelmina P. Masinsin, Cleofe C. Padlan, Marilou C. Pantaleon, Gary Ken N. Robles, and  and Morgan G. Sibal will be given awards for their 25 – year service.
Thirty (30) years in the service are Elvira S. Abines, Sennen A. Alejandro, Noel P. Aranda, Jun T. Basas, Nida Rita R. Bombita, Alana R. Buenviaje, Arminda B. Campo, Rodolfo V. Catolos, Rolando A. Cruz, Danilo E. Esquibel, Celerina V. Gonzales, Erlinda S. Manansala, Zamora P. Medrano, Donato S.J. Natividad, Eva B.
Natividad, Danilo M. Pascual, Antonio E. Pegos, Susan L. Pinto, Ramil T. Reyes, Marites M. Rio, Bernardita L. San Diego, Helen B.       Señora, Eulenia V. Solano, and Shirley D. Vitor.
In addition, Aleili T. Bolire, Artemio C. Docena, Priscila S. Mapa, and Nancy R. Ulic-ulic will receive their awards for their 35th year in     service.
Lastly, Shirley R. Marty and Elsa D. Ramos will be awarded     having served their 40th year at URS.
SERVICE AWARD
Certificates and cash incentives will also be given to the following for the service they have rendered:  Librada M. Ison, 15; Danilo S. Amigo, 17 years; Josefina C. Teologo, 18; Rebecca D. Abejuela, 25; Prescila C. Nicolas, 26; Nonato V. San Pablo, 31; Marcela C. Paradero, 32; Pierre C. Pantaleon, 35; James C. Pascual and Merlita B. Llorera, 37; Evangeline C. Pascual, 39; Jesus C. Pascual, 40; and, Ederlinda B. Dacillo and Estela S. Roderos, 41.
CAREER AND SELF DEVELOPMENT INCENTIVE AWARD
Meanwhile, faculty and staff who have completed a degree with financial aid from the University will receive certificates of recognition. They are Jesamel P. Bumatay, Marlene C. Cebanico, Francisco B. Culibrina, Maria Salome A. Desoloc, Joan Baez D. Obien, Liberty T. Ocampo, Preciosa T. Ognilla, Nida D. Quimuyog, and Florante D. Solano.
Plaques and cash incentives will be given to those who earned their degree on their own. They are Ferdinand D. Abejuela, Zenaida S. Angeles, Aries B. Anievas, Lovely Celeste F. Benasa, John Emmanuel S.J. Dela Cruz, Norma F. Elviña, Grace Joy E. Magistrado, Rocan B. Pangan, Concepcion C. Ofamen, Marissa T. Poblacion, Julie A. Talattad, and Rulen T. Velicaria.